Unfortunately we don't have a working camera, so no photos. Boo. I met a few really awesome people there though.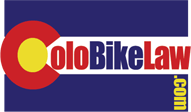 Colorado Bike Law is an organization and racing team; "Our goal is to promote bicycle safety awareness, advocate bicycling interests, and serve as a resource of information for cyclists in need of legal assistance." This is a great resource for all cyclists. Need a lawyer that's bicycle friendly and knows the rights of cyclist because he is one? Check them out. Sound guys.
—
A friend and fellow courier, James Benitez, was also there selling his leather courier bags and cycling skid lids from his company, Santiago Leathercraft. His work is one of a kind, handcrafted goods you just don't see anymore. He takes custom orders for any kind of bag. A few people at the Swap asked if he made bicycle seat bags, he's thinking that's his next project. Check it out here.

That's legendary Denver courier J-Bone modeling one of his bags.

James and a friend with one of his bags.

Detail of the label and stitching.
—
Looking for a vintage bike that's not just like every other beater on the street? Bill McDonald is a local who restores vintage bicycles (and homes!). Give him a call or shoot him an email: 303.718.3874, Kelbil[at]mac[dot]com
—
Did you know that there's a velodrome being built in Boulder? Well there is. It's a part of Boulder Indoor Cycling, it will also include 18,000 sq ft of indoor mountain biking, coaching and a kids program, CycleTykes.
According to the website, the velodrome will be 142 meters (pretty small) and resemble the photo below; it will be used for recreation and racing.

Pretty sweet.